Jurassic World: Dominion Dominates Fandom Wikis - The Loop
Play Sound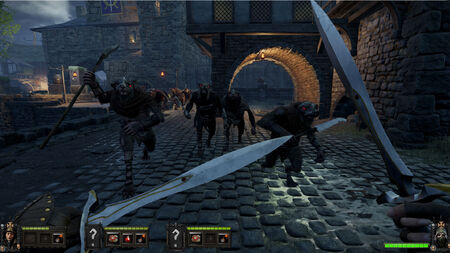 The following Weapons are core to the gameplay of Vermintide.
Witch Hunter
[
]
Melee
[
]
Ranged
[
]
Armour
[
]
Waywatcher
[
]
Melee
[
]
Ranged
[
]
For a Wood Elf, there is only one ranged weapon worth of use, and that is the famed Elven Bow. Kerillian will have access to many types and variants, be they quick and light or heavy and long ranged. She can either loose a swarm of arrows or carefully align a power shot piercing two enemies with a single arrow.
Armour
[
]
Empire Soldier
[
]
Melee
[
]
Ranged
[
]
Armour
[
]
Dwarf Ranger
[
]
Melee
[
]
Ranged
[
]
Armour
[
]
Bright Wizard
[
]
Melee
[
]
Ranged
[
]
Sienna Fuegonasus most important tools are her Staves, and depending on which one she uses, she can combine her spells differently to achieve the most fiery and spectacular result. Each staff combines a heavier and lighter spell, allowing her a range of options and tactics in combat. Sienna needs to keep herself under control though, or risk immolating herself instead of her foes.
After firing a spell, the curved bar near the crosshair (and also the vertical bar beside the staff icon on the right side of the screen) will fill up, with more powerful spells filling the bar more. If the curved bar fills up to the end, Sienna will explode, which damages enemies around her but also kills her. As such, players should strive to keep her overheating in check. The bar decreases naturally over time, but the process can be greatly accelerated by holding the Reload key. If the curved bar is above the white markings on it (or if the vertical bar near the staff icon is completely filled up), cooling off with the Reload key will damage Sienna, but not when each bar is below the white marking/full, respectively. Thus, it's best to fire a few spells, cool off and repeat, in this way avoiding self-inflicted damage.
Armour
[
]